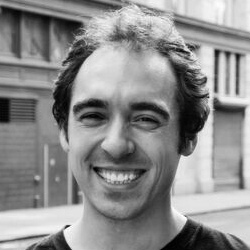 Alex Coulombe
Agile Lens
Co-Founder / Creative Director
Speaker //
An architect in the Metaverse: social VR, NFTs, and new opportunities
Synopsis
In this session, Alex Coulombe discusses how the rapidly evolving landscape of emerging tech has presented myriad opportunities for architects to apply their skillsets to the digital realm.
What happens when a virtual space needs to provide the same functions as a real one for hundreds of people? What principles of architectural psychology still apply? What are the unique affordances available to a metaverse master builder? What inspiration can we take from film and novels, sci-fi and fantasy? Are there opportunities for paid commissions? Why is there so much bad virtual architecture?
Let's dive deep into the state of digitally-dimensioned design and what it means for the future of the built (and unbuilt) environment.
Bio
After graduating from Syracuse University with a B. Arch and minor in Theatre, Alex worked in a wide range of architecture practices, including under Rafael Viñoly, always finding himself drawn to cutting-edge workflows to enhance the communication of design intent. A rising thought leader in emerging tech, since 2014 he has spoken at and featured in over 30 XR, Architecture, and Theatre conferences across the world. Alex champions VR and AR as accessible workplace tools and promotes his ever-evolving vision for the expansion of their utility.​