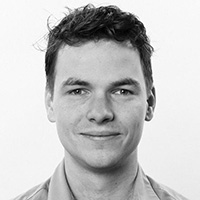 Johan Hanegraaf
Arkio
Co-founder & Head of Product
Speaker //
Arkio - live collaborative design on Revit, Rhino & SketchUp models
Arkio is a new collaborative design tool that enables designers to work together on buildings, interiors and urban plans using VR, AR, PCs, tablets and phones.
Johan and Hilmar will invite the audience at NXT BLD to join them live in Arkio to show how Arkio can be used for real-time collaboration and presentations. Expect to sketch various design options and demonstrate how to work with existing Revit, Rhino and SketchUp models.
The Arkio folks will also visit some of the projects its users have been creating with Arkio and show how to work at different scales, design with parametric shapes and use features like real-time program calculations, sections and saved views.
Bio
With over a decade of experience programming design tools at Mecanoo, Johan's early exploration of immersive technologies led him to join Arkio, a startup creating a unique collaborative VR/AR design tool. As an engineer and architect by education, he strongly believes that our drawing tools should be more intuitive, collaborative and fun if we want them to enhance our creativity and built environments.