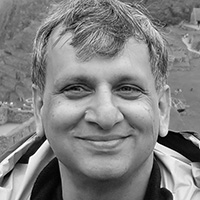 Abhijit Oak
Katerra
Vice President, Software Development
Main Stage //
Bio
Abhijit is a seasoned software engineering leader. Trained as a civil engineer, he started his career in the EPC space working on thermal power plants where he became familiar with estimation, budgeting and actually running a site.
Abhijit then spent time working on structural analysis and design software before joining Autodesk.  Abhijit held multiple roles in Autodesk. Some notable achievements included streamlining a large engineering organization to yearly releases, founding the plant and piping team, modernizing the back office, modernizing AutoCAD and porting it to the Mac and finally leading the Dynamo team.
Abhijit has spent many years in the AEC industry and very passionate about delivering buildings on time on budget.  His main mantra is, price of a building above ground cannot change once quoted.
He runs software development at Katerra.
Presentation content
Silicon and Sawdust – Deconstructing Construction
Darwin suggested that, "It is not the strongest of the species that survives, nor the most intelligent, but the one most responsive to change." And things are changing.
The construction industry has been mistrustful and adversarial , often resulting in a messy 'blame the customer, don't trust, don't share' environment. However, the language of carpenters, brick layers, electricians and plumbers is being replaced by the language of factories, robots and supply chain management.
Katerra is a young company fully focused on leveraging these trends to realise an opportunity to dramatically improve construction productivity. With its extensive product development and acquisition activity, Katerra has amassed knowledge across every element of the building supply chain, creating a generational opportunity to develop transformational construction technologies and methods.
During this session, you will learn how Katerra went from 50 to 5000 employees in under 4 years and understand how it is  developing the technologies to keep pace with its meteoric growth.