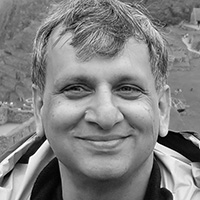 Abhijit Oak
Katerra
Vice President, Software Development
Speaker //
Bio
Abhijit is a seasoned software engineering leader. Trained as a civil engineer, he started his career in the EPC space working on thermal power plants where he became familiar with estimation, budgeting and actually running a site.
Abhijit then spent time working on structural analysis and design software before joining Autodesk.  Abhijit held multiple roles in Autodesk. Some notable achievements included streamlining a large engineering organization to yearly releases, founding the plant and piping team, modernizing the back office, modernizing AutoCAD and porting it to the Mac and finally leading the Dynamo team.
Abhijit has spent many years in the AEC industry and very passionate about delivering buildings on time on budget.  His main mantra is, price of a building above ground cannot change once quoted.
He runs software development at Katerra.