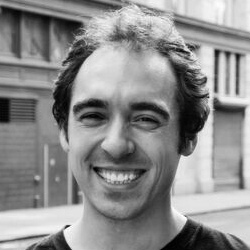 Alex Coulombe
Agile Lens
Co-Founder / Creative Director
Speaker //
How VR Helped Us Design a Theatre From the Inside Out
Bio
After graduating from Syracuse University with a B. Arch and minor in Theatre, Alex worked in a wide range of architecture practices, including under Rafael Viñoly, always finding himself drawn to cutting-edge workflows to enhance the communication of design intent. A rising thought leader in emerging tech, since 2014 he has spoken at and featured in over 30 XR, Architecture, and Theatre conferences across the world. Alex champions VR and AR as accessible workplace tools and promotes his ever-evolving vision for the expansion of their utility.​
Presentation Content
How VR Helped Us Design a Theatre From the Inside Out
Since the release of the Oculus Rift DK1 in 2013, many have come to understand the valuable role virtual reality can play for visualizing architecture, but case studies of actively utilizing VR throughout the design process, and iterating on that design from within VR, are few and far between. In this talk, Alex Coulombe examines a project that's done just that: the Brockman Hall for Opera, due to open later this year. Agile Lens in partnership with Fisher Dachs Associates and architect Allan Greenberg began using VR in the earliest stages of design back in 2015 to explore large scale design moves, refining and comparing a myriad of options in real-time. When nearing design completion the VR model became increasingly sophisticated, populating the theatre with a virtual audience, performers, set designs, and increasingly subtle decisions about lighting and colour were explored.