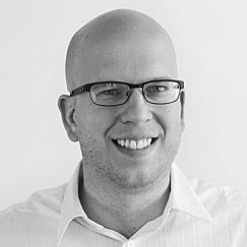 Nate Miller
Proving Ground
Consultant (founder)
Speaker //
Data-Driven Design – An Unrealised Opportunity
Bio
Nate Miller is the founder of Proving Ground. As a consultant, he has advised leaders and teams in some of the most reputable organisations in the building industry.
Whether it is offering strategic insight or developing new parametric tools, Nate strives to help his clients leverage data to improve the building process. Nate has worked with his clients to deliver leading-edge solutions for projects ranging from high-rise towers, corporate office spaces, mixed-use master plans, and Olympic-sized sports venues.
Nate has authored numerous free and open source software tools that are widely used by professionals and academics. Over the past 8 years, Nate's blog, TheProvingGround.org, has gathered a following within the design community as a resource for computational technologies.
Prior to starting Proving Ground, Nate was an Associate Partner at CASE. As a director, Nate built many trusted relationships with clients throughout the building industry. His clients have included HDR, RTKL, Snohetta, NBBJ, UNStudio, AECOM, DIALOG, and Adrian Smith+Gordon Gill.
Presentation Content
Data-Driven Design – An Unrealised Opportunity
Today, the building process is slow, expensive, and risky. Meanwhile, the availability of data gives designers and builders the ability to deliver innovative solutions with unparalleled speed, performance, and certainty. After nearly 18 years of creating buildings using building information modelling, many of the opportunities for implementing data-driven processes have largely gone unrealized. In his lecture, Nate Miller will discuss simple and accessible data-driven workflows that build on the existing ecosystem of popular CAD and BIM tools. Nate will discuss how technology – in parallel with change management and healthy business practices – can equip AEC businesses to take advantage of their data for designing a better built world.