Carlos Cristerna
Harnessing the power of real-time ray tracing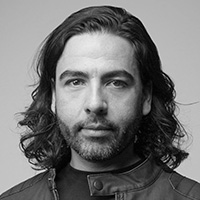 Bio
With over 15 years' experience in the architectural visualization industry, Carlos has helped Neoscape streamline not only traditional 3D production processes, but he has also pioneered new technologies and incorporated them seamlessly into the studio's offerings.
As Neoscape's Rad Lab director, Carlos leads the studio's efforts in research and development. In this role, he explores and implements new creative technologies, products, and ideas, bringing them to life to solve real client problems. He strategizes complex internal projects, selecting appropriate solutions while working with Neoscape production teams to ensure objectives and timelines are met.
His extensive experience with traditional 3D visualization combined with industry innovation makes him an oft-sought panelist and speaker. Recently, he was a guest presenter for Epic Games at Autodesk University, and he was also a panelist for Bisnow's Emerging Technologies in CRE session this past October. At both events, he spoke about the easy adoption of AR and VR into architectural visualization, and how real-time technology will ultimately provide the most significant industry transformation. Carlos has also collaborated with Unreal Engine on a video feature about how Neoscape has built a powerful pipeline, using Unreal Engine and Datasmith, for delivering a unique range of services to drive real estate brand strategies. He served as president of the American Society of Architectural Illustrators (ASAI) in 2016 and judged the Architecture category of the Unreal Awards in January.
Carlos graduated with a Bachelor of Architecture from the Universidad Autonoma de Sinaloa. Recent projects include the development of augmented and virtual reality experiences for The HYM Investment Group's Amazon HQ2 bid in Boston, as well as internal R&D efforts to incorporate Vicon's Motion Capture technology into architectural visualization processes. His team also recently completed a fully immersive 360-degree film, with real-time interactivity, to be experienced in Igloo Vision's projection cylinder.
Presentation content
For over 23 years Neoscape has been crafting experiences of built environments for clients around the world. Join us to see how we are using real time raytracing from the lens of Neoscape's production experience and the impact on the internal design and decision making process, as well as our clients. With the aid of NVIDIA Quadro RTX technology and Lenovo workstations we will deep dive into the process and challenges of Exterior HDRI lighting, large and small office interiors with numerous polygons, and complex shaders created in 3DSmax-Vray imported through UE4 Datasmith. All of this in one of Manhattans newest skyscrapers.
BACK TO VIDEO LIST