Florian Frank
User Defined Software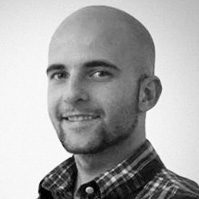 Bio
Florian Frank is a Basel based architect and self-taught software engineer for robotics and creative industries. Before starting at Herzog & de Meuron he worked on the digital fabrication of the Elefant House at the Zoo Zurich, exhibition booths for Volkswagen, BMW and Audi and numerous plugins for Rhino and Grasshopper, like FabTools, Taco, DTM and the Layout Manager.
Presentation content
User defined software
The past has shown how the evolution of software influenced architects in their design and obviously manufacturers in their product spectrum. The talk will put an emphasis on the workflow influenced interaction design for software development, to unchain the user's needs. Starting a journey from digital fabrication over machine control, towards user interaction it will highlight principles for a general approach in software development. Examples show digitally driven roof constructions of the elephant house Zurich over exhibition booths, free software projects and custom software solutions working at Herzog & De Meuron.

BACK TO VIDEO LIST