Sandeep Gupte
Re-imagine cities of the future with next gen visualisation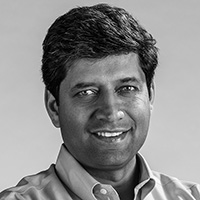 Bio
Sandeep Gupte is Senior Director of Product Marketing for NVIDIA's Professional Visualization Business. He is responsible for brand advancement, new product introductions, marketing strategy and global market expansion of the Quadro family of products.
Prior to joining NVIDIA Mr. Gupte held senior management positions at leading technology companies such as AMD and Silicon Graphics. Mr. Gupte holds BS in Computer Engineering from University of Poona, MS in Computer Science from Utah State University and MBA from California State University.
Presentation content
Re-imagine cities of the future with next gen visualisation
Exciting new technologies have emerged that are transforming AEC design workflows. From real-time ray tracing and engineering simulation, to virtual reality and AI-enabled applications, visual computing is becoming increasingly critical to AEC firms for optimizing and speeding building and infrastructure design. In this session, NVIDIA will describe how these technologies are empowering users and helping the industry re-imagine cities of the future.
BACK TO VIDEO LIST